Books for Sale
Book 1 - Guide to Common Vertebrate Fossils from the Cretaceous of Alberta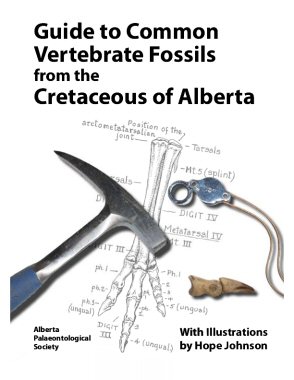 Use this book to identify your fossils using Hope Johnson's and other illustrators' detailed and labelled technical renderings of the dinosaurs, fish, lizards, amphibians, marine reptiles and turtles from the Alberta Cretaceous. This is a valuable guide for amateur fossil enthusiasts which includes 234 pages and illustrated with 144 drawings in a coil binding for ease of use.
Included here is a link to several sample pages that are a good representation of the content.
To order a copy, print a copy of the book 1 order form, then fill out and send in as per instructions on the form.
Book 2 - Now There Was a Lady!, Hope Johnson, LL.D., 1916 - 2010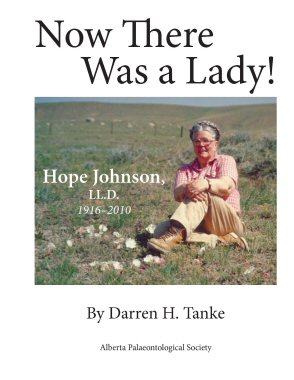 By Darren Tanke, edited and published by the Alberta Palaeontological Society,
with forewords by palaeontologist Dr. Philip J. Currie, artist Allan Jensen and geologist, museologist, naturalist and writer, David A.E. Spalding.
The 2010 passing of Hope Johnson marked the end of an era for Alberta's verte­brate palaeontology communities. Her death affected other disciplines, too, as she travelled in many circles within the province for 65 years. How many among us can truly say they never knew her personally, saw her art work, or learned to identify Alberta prairie plants, or Late Cretaceous bones and teeth through her fossil identification books? During much of her middle and later life, and especially during the late 1950s to 1980s, Hope was a well-known and respected powerhouse in the Albertan amateur and professional vertebrate palae­ontological communities. She was also heavily involved in the naturalist and visual arts communities as well as charitable organizations. This book focuses on her extensive activities in Alberta vertebrate palaeontology and provides examples of some of her fossil and botanical drawings and paintings. Coil bound, 283 pages; extensively illustrated in black and white, with 30-page colour section showcasing Hope Johnson's art. Includes index.
To order a copy, print a copy of the book 2 order form, then fill out and send in as per instructions on the form.
To Order
Print and fill out the appropriate form. Then mail it along with a payment to APS at the address provided on the order form. If paying by Interac e-Transfer, fill out the form, scan and email the completed form to Mona Trick at giftshop@albertapaleo.org.
To obtain cost of shipping, domestic or international, please contact Mona Trick at giftshop@albertapaleo.org or call (587) 578-4579.
To save the cost of shipping, you may also purchase a copy directly at any APS event, including at our monthly meetings. We will have copies on hand available for sale.